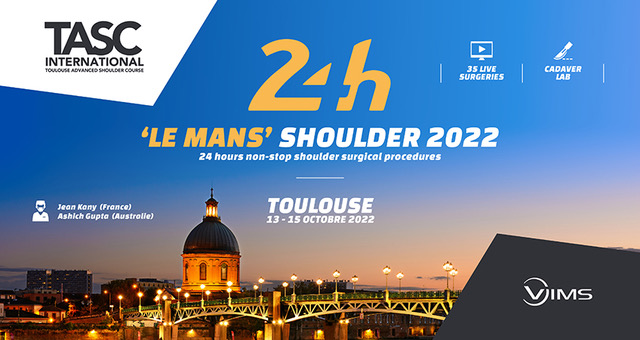 This year, 24 hours of non-stop live performances are scheduled under the name TASC – LE MANS SHOULDER.
On the program, more than 30 lives filmed around the world, from Korea to Canada and Colombia.
Rewarding and exciting 24 hours to observe specifics surgicals techniques of surgeons around the shoulder.
For S.B.M, Dr. Zipoli and Dr. Martinel will be live from the Dax Hospital Center, for an eco-responsible reconstruction of the rotator cuff, on Friday, October 14th, from 1 pm to 2 pm.
Reservation and registration : https://www.eventime.fr/CommunityPortal/Registration/TASC22.aspx?registrantID=1b6851c1-3429-443d-a656-ff85118266f6